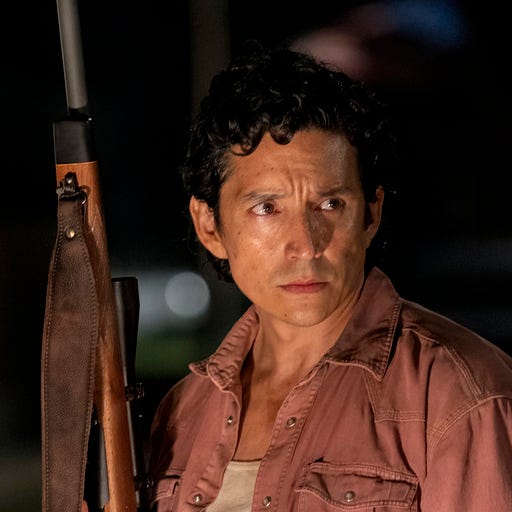 Feb 22 • 39M
"The Last of Us" Actor Gabriel Luna On Playing Tommy And Taking Life One Day At A Time
"If you do this, it's a leap of faith," Gabriel Luna says, on his pursuit of acting. "There is no Plan B." | Listen now or download for later.
conversations with creatives
This interview contains spoilers for The Last of Us episode 6. Subscribe below to receive future episodes with inspiring creatives.
This week I spoke to an incredible actor and human being, Gabriel Luna who plays Tommy in HBO's hit new series The Last of Us. If you are one of the few people yet to watch Craig Mazin's adaptation of the popular video game, I highly recommend it. The Last of Us is not just another apocalypse series: It's an emotionally rich story of survival, family, and healing yourself through unexpected human connections. It bends genre, and each episode leaves you reeling in the best way. For instance:
I met Gabriel prior to the success of The Last of Us when his wife, actress Smaranda Luna, attended my Costa Rica 2022 retreat. Gabriel and I had only talked as acquaintances, on double dates with our spouses, or over drinks after Smaranda's wonderful, bi-monthly variety show in Los Angeles (where I once performed a version of this essay). It was a delight to sit down with him and discuss process. We dig into his experience preparing for and ultimately portraying Tommy Miller, and how he stays grounded through the highs and lows of this unpredictable career.
Little Things only exists because of its gorgeous subscribers. Add your name to join the club & sustain this newsletter!
Here's the breakdown of our conversation:
In the first half of the interview, we discuss his emotional response to the success of the show.

We chat about the way creative rituals can help ground you and support your mental health.

I ask Gabriel if he feels like he's "made it," and he pushes back against the idea of "making it" altogether.

In the later half of the episode, we dig into The Last of Us — did he play the video game, and what sort of pressure did he feel to serve the fans?

We dig into the experience of filming this week's big episode, "Kin." Gabe tells a great story about how he and Pedro Pascal rejiggered the dialogue of their big bar scene.

I simply had to ask him: WHY DIDN'T TOMMY GO WITH THEM TO COLORADO?

Finally, Gabe gives wonderful advice to young actors. He reveals he worked as a flower delivery man for 12 years which I found so heartening. "It wasn't deviating from my plan, it was a strategy to achieve my plan," he says, reminding us that the day jobs, the struggle, the grind is part of our process, part of how we achieve our biggest goals. "If you do this, it's a leap of faith," he says. "There is no Plan B."
What struck me most from our discussion was Gabriel's ability to stay present and take each day one at a time, whether during filming or in that painful waiting period when you don't know how people will respond to your art once it airs. His ability to center himself and stay focused on doing the work is undoubtedly part of what's propelling him to such success as an actor.
I hope you enjoy this episode as much as I did. And I have a feeling we're going to be seeing a lot more of Tommy at the end of this season and next… (not because Gabriel said anything, but… if you know, you know!)
Listen to past podcast episodes:
To support this newsletter, consider becoming a paying subscriber. To support Little Things for free, you can "heart" this post, leave a comment, or share it with a friend. Thanks for your support!
Typos are always intentional to keep you on your toes.